Cheshire
Widows Sons
Masonic Bikers Association
© Blue Light Media on behalf of Cheshire Widows Sons Masonic Bikers Association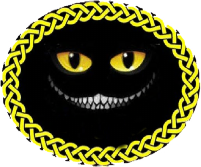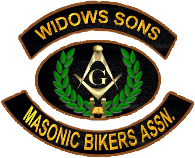 See some of our past events here…
The primary objective of CWSMBA is for like minded Cheshire freemasons to simply use our motorbikes for ride outs, events, Rally's and general fellowship. If in that process we can raise a few pounds for Charity then all the better, so this we do.....
CWSMBA supported Holy Trinity Church Holywell where one of our members is active in running the church activities. In 2018, our members helped with a stand at the event and making the BBQ. As can be seen in the pics, in 2019, we gave a donation of £200
September 2018 and CWSMBA have a sponsored bike ride around the Province of Cheshire visiting each Masonic Hall. A warm welcome was provided at each hall on a day that could not have been worse with pouring rain and high winds. Nonetheless it was all for a good cause.
6th October 2018 and the CWSMBA partake in the 'Ride To The Wall' event (RTTW) where bikers from all over the UK and Europe, Ex-Military & Services and many more ride to the National Memorial Arboretum in Staffordshire. The NMA also has a Masonic Garden in which Widows Sons from various Chapters congregated to remember our War Heroes.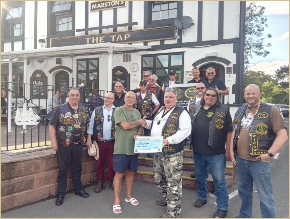 Cheshire Widows Sons present a cheque for £170 at 'The Tap' pub Eastham Ferry, where they had held a fund raising night. Our donation will go direct to funding research into Motor Nuerone Disease. Another good turnout from CWSMBA members to support the cheque presentation, plus a nice afternoon drinking Ginger Beer on the lawns!
See more stories on our Archive page here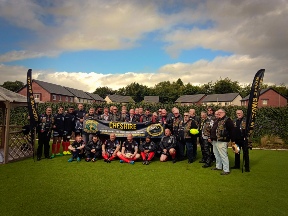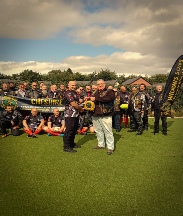 Two dozen members turned out on Saturday 31st August 2019 when President Harry Shone presented a defibrillator to Andy Topham, founder and manager of The Combined Services Barbarians Rugby Team. Our own Steve Stockford, a soon to be member of Noctorum Lodge and a Masonic biker heard the Barbarians were short of this lifesaving technology and arranged a match with his team, Anselms Mavricks RFC, at The Vauxhall FC, Ellesmere Port . The 'Barbarians' are former service men from the Army, Navy, Royal Air Force and the Royal Marines who raise funds for HM Forces Charities by playing matches all over the country. The 'Barbars' Manager, Andy, thanked the ever generous and big hearted bikers and later said "jumping up and down on someones chest may save lives, but this little beauty WILL save lives. "
We recently celebrated our second anniversary at the Mollington Banastre Hotel, near Chester, who put up a fine evening for us with a 4 course meal, disco and of course our 'professional' karaoke singers taking the limelight as usual!
It wasn't all about the enjoyment for ourselves, friends & families of course as we also raised the magnificent sum of £2,500.00 that will be distributed to a variety of local charities.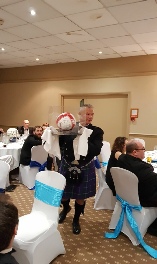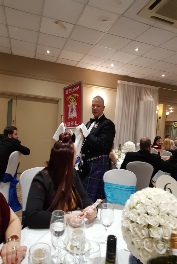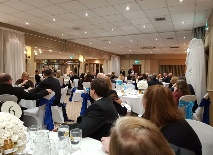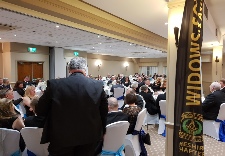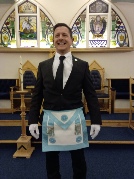 One of the requirements to be a fully patched Widows Son, is to become a Master Mason. As Paul (aka 'Gunner Lofty') Lang, recently became such. Prior to this time however, you can be a part of our 'Bad Pennies' group as a friend, family member, or just interested in Freemasonry. Contact us for more information.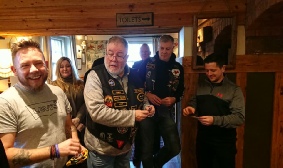 Two of our more recent recruits to CWSMBA, Dave aka 'Chip' & 'Gunner Lofty' Paul, both of whom were 'patched' at one of our recent breakfast meetings. Dave has been a MM for sometime, recently joining us and Paul has been with us as a 'Bad Penny' and recently became a MM.